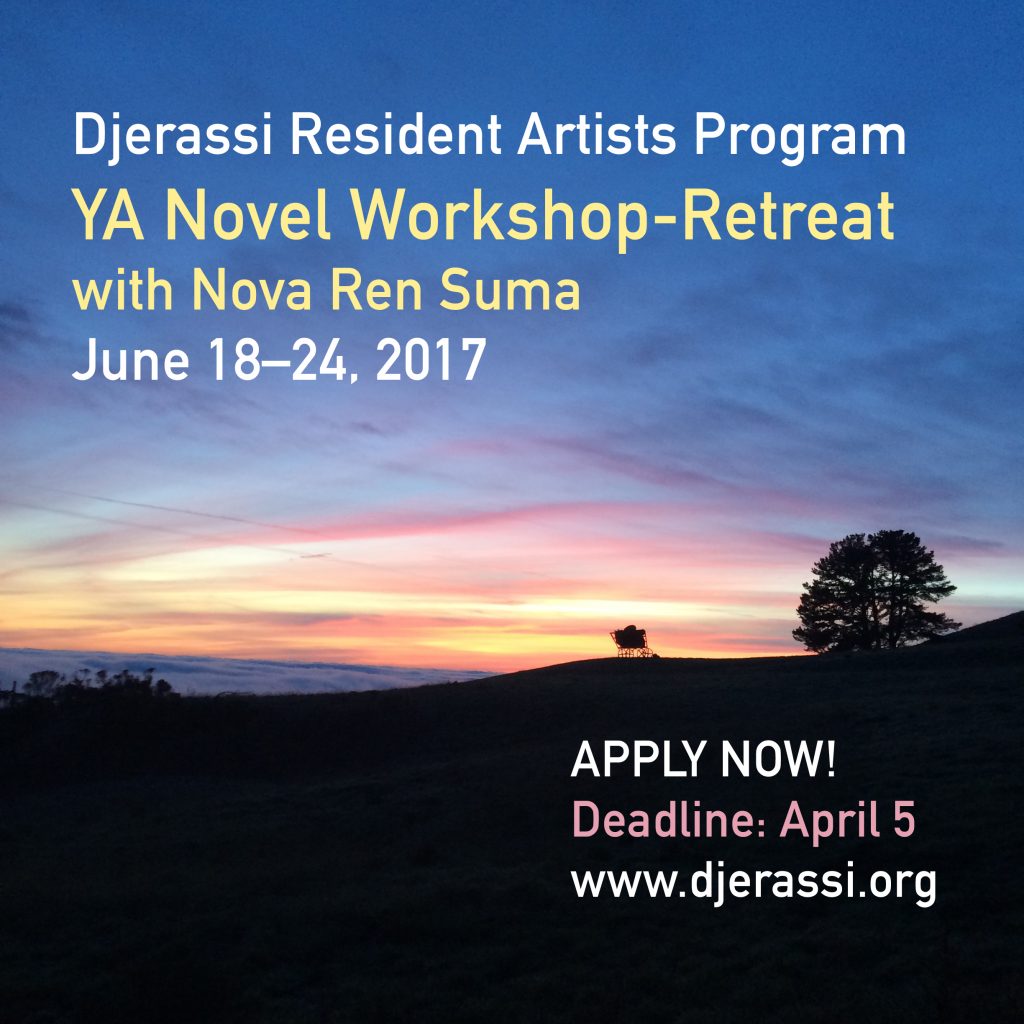 Applications for the 2017 YA novel workshop-retreat at the Djerassi Resident Artists Program are now closed. 
There won't be a YA workshop at Djerassi in 2018, but I have another workshop in the works and will post information when I have it.
---
INFORMATION ON 2017 WORKSHOP: 
This will be my sixth YA workshop at Djerassi! I first visited Djerassi as a resident artist in 2012, when I spent a month writing and exploring and finding inspiration. I love sharing this experience with fellow writers of YA—a small week-long taste of Djerassi with constructive critiques, writing prompts, readings, an hour-long private conference with me, plus good food and good discussion and a sculpture tour and what else can I say to entice you?
---
WORKSHOP DETAILS
2017 Young Adult Novel Writing
with Nova Ren Suma 
Description:
A fiction workshop tailored for writers working on YA novels of any style and genre, featuring daily critique sessions and time to retreat and produce new work. Includes 75 pages (25 for group critique; 50 in one-hour private conference) of manuscript review. Applicants accepted pending review of writing samples by Nova Ren Suma.
This workshop takes place at the Djerassi Resident Artists Program, an artist colony in Woodside, California.
Dates: Sunday, June 18 – Saturday, June 24, 2017
Deadline: Wednesday, April 5, 2017
Notifications: Wednesday, April 19, 2017
Application fee: $10
Workshop fee: $1500/$1850 private room, shared bath/private room and bath
Special couples rate: $1200 each (shared room/bed)
Includes 6 nights lodging, all food, and local transportation from and to the San Francisco Airport.
Deposit: $500 due Wednesday, April 26, 2017 (Deposits holds your place and are non-refundable)
Final payment: due Wednesday, May 17, 2017
Application Process:
Step 1: You will first need to register at the online application portal www.slideroom.com
Step 2: Applications for the workshop can be accessed through this link: https://djerassi.slideroom.com/#/permalink/program/32780/kRvMWyXy6j
or by clicking on the APPLY button on the Djerassi Program page
Application materials requested:

2017 Nova Ren Suma Workshop Application Form
A short statement about what you hope to gain from this workshop and what writing experience and classes you have taken before, if any.
A writing sample of young adult fiction of no more than 15 pages. This does not need to be the manuscript you will be submitting for workshop.
But you have more questions, so here goes, a FAQ:
---
What are you looking for in writing sample?
I'm looking for good writing, of course, but also the spark that tells me I would be able to be helpful to you as a writing teacher—a connection to your writing that tells me we would work well together.
It's not all about the writing sample, either: I am looking at that last question on the application carefully, the short statement where I ask "what you hope to gain from this workshop and what writing experience and classes you have taken before, if any."
I'm looking at the person as well as the writer, so I can try to craft a good, supportive, dynamic group of writers who will click with one another, and who will come from diverse perspectives and backgrounds and places in their careers.
Please know: The sample pages you send in for the application absolutely do not have to be the pages you send in for the actual workshop. So send your best work for the application, and know you can send far rougher pages later.
The writing sample can be work that is published or unpublished—whatever you think best showcases your work as a writer. It should be no more than 15 pages.
---
When will the pages for critique be due?
A month before our workshop starts, so you have a chance to read all your fellow writers' work and write feedback before arriving at Djerassi (and so I'll have time to read, too!): so May 18, 2017.
You'll be able to workshop up to 25 pages with the group. You will also have the opportunity to send me up to 50 additional pages for private critique, which we will discuss in person when we meet.
These additional pages can be from a different novel, if you prefer, or from the same novel—up to you.
---
What kind of writers are you seeking?
Writers with experience writing YA, though not necessarily publications. Of course published authors are very welcome to apply—a number of multi-published and agented writers have taken this workshop before as have writers who have not yet published or found an agent. Writers with MFAs and writers without have taken this workshop. Writers working on their first-ever YA novel and writers working on their tenth YA novel have taken this workshop. I'm open to all.
However, this is not a workshop for beginning-level writers who have never written fiction before. You should know what YA is, and you should be enthusiastically, passionately writing it.
Underrepresented voices are especially encouraged to apply.
You must be 18 or older to apply.
---
What should I plan to bring for workshop?
Your 25 workshop pages—and the additional 50 pages you will send only to me for discussion in our private conference—do not need to be the sample you send in with your application. In fact, ideally they will be new work that you've taken as far as you can, work you are open to gaining feedback on to make it better.
Ideally you will bring the first 25 pages of the manuscript to workshop, but if you would prefer to workshop something later in the novel and have a good reason to do so, let's chat.
---
I know this is a "YA" workshop, but can I workshop pages from a middle-grade novel? How about an adult novel that I want YA readers to read?
This is a workshop only for YA (young adult) writing. That's what we will be workshopping in June, and I assume if you're applying you know who I am and why I'd care, and you know what YA is so I don't have to define it.
I would not want you to bring pages from a middle-grade novel or an adult novel to the workshop.
If you apply with a middle-grade or adult fiction sample, it is possible that I might assume you are not the best fit unless you let me know in your statement that you are seeking to bring a YA novel to workshop. Just let me know, so I don't misunderstand. In previous years, writers have been rejected over this.
---
How many writers will you accept in 2017?
Ten.
There is housing enough for eleven, but I've discovered that no more than ten writers is ideal.
---
Are you choosing writers RIGHT NOW THIS VERY SECOND and is there a chance I will lose my spot if I wait to apply until the deadline? (i.e., Are there rolling admissions?)
Don't worry—no rolling admissions.
I won't be selecting the writers until after the deadline, which is Wednesday, April 5, 2017.
I do however often read applications as they come in and set aside ones I think would be a good fit. Once I have all the applications, I work hard to craft a group of writers who I think will work well together.
Notifications will go out on or before Wednesday, April 19, 2017.
---
What is the daily schedule?
Writers will arrive throughout the day on Sunday, June 18—Djerassi Program staff will pick you up at the airport and drive you up the twisty, twisty mountainous road—and we'll begin with a communal dinner and a gathering that evening.
We will meet for workshop at 10am in the mornings Monday through Friday, and in workshop we will critique each writer's novel pages in a constructive, honest group discussion led by me. At the end of your discussion, you as the writer will have the opportunity to ask the group questions about anything you'd like clarity on, or anything that didn't come up in our feedback.
After you've been workshopped, you and I will schedule a private hour-long conference in the afternoon, where we will talk about how you thought the workshop critique went and discuss your additional pages.
During one afternoon, we'll go on a sculpture tour of the property, which is totally voluntary but highly recommended.
Scheduled during some afternoons there will be open writing prompt sessions led by me, where we will write off prompts and share on the spot, if you have something you would like to read aloud. These sessions are optional, and you can take part as you please, but just know I have witnessed some remarkable pieces be written in these sessions, and I think they are especially fruitful and exciting.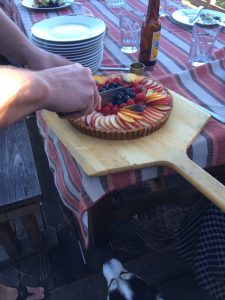 Otherwise the afternoons are yours to write, nap, think, read, chat, hike the sculpture trails on your own, or whatever you'd like. In previous workshops, sometimes the writers would meet together for writing sprints, for more prompts, for drawing plot maps… the options are endless—and you are always welcome to write in your private studio. Your time is yours.
Breakfast and lunch are yours to make from the fully stocked kitchen, but every night we meet for delicious dinner in the main house, made for us by amazing Chef Dan. (Who is wonderfully accommodating for special diets, btw, if you are vegan or vegetarian or gluten-free. Everything he makes is so good. He's my favorite chef, over all the colonies.) We share chores after dinner and clean up the dishes. It doesn't take long.
In the evenings we will have readings—a chance to share more of your work! We might have a movie night. We might have an honest discussion about the publishing industry in a place where only we can hear. I take my cue from you, and will craft the week to be whatever you'd like it to be.
The workshop ends Friday night, and Djerassi Program staff will take you back to the airport the next morning, Saturday, June 24.
---
I can only come for part of the workshop—should I still apply?
If you're a member of this workshop, I want you to stay for the whole thing. Please don't apply if you know you can't stay for the whole week. The workshop begins Sunday evening, June 18, with dinner at 6pm, and ends with readings the night of Friday, June 23 (and we may stay up late!). The morning of Saturday, June 24, the Djerassi Program staff will drive writers back to the airport.
Please note: I'm already aware of one date conflict for some—the 2017 ALA Summer Conference in Chicago, which is June 22–27, 2017. If you are planning to attend ALA, please be aware before applying to this.
---
Is there any required reading?
A month before the workshop, you'll get your fellow writers' pages to read and start critiquing so you have ample time to have everything done before you arrive. Other than that, there is no required reading before or during the workshop.
---
Is there an opportunity for you to critique my full manuscript?
I wish I could make this option available, but with my other teaching responsibilities I'm sadly unable to fit in whole novel critiques right now.
However, 75 pages is a good chunk of your novel—in that space you could show me Act I and then talk out the rest of your plot with me in our private hour-long conference. A lot can be gained, and my feedback is meant to carry you forward with the rest of your novel after the workshop ends.
---
What is housing like? Will I have to share a room?
Every writer will get a room of their own! (Unless you apply under the special couples rate and both get accepted and want to share a room—see rate details here.)
There are two rates for the rooms: There are four studios with private bathrooms—the Middlebrook Studios, which are pictured here. The fee for the Middlebrooks is higher. Other rooms will have a shared bathroom—shared most likely with just one other person—and these rooms are in the Artists' House or in the Artists' Barn. The rooms in the Barn are more rustic, as they are traditionally used for visual and performing artists. (One of the available rooms in the Barn is a dance studio with a sleep loft!)
When you are accepted, you will choose if you want a room with a private or shared bathroom by putting in your deposit to hold your space.
If you have specific preferences or needs, you can be in contact with the Djerassi Program staff at that time.
---
Are there scholarships available?
I'm sorry to say that the Djerassi Program does not have a formal scholarship program available.
It is possible I may be able to offer some partial financial aid, which I will reserve for a diverse writer. If you are a diverse writer who is not applying because you can't afford the full cost but would be able to come with a partial scholarship, please still apply and mention a need for financial aid if possible in your statement.
---
I've taken this workshop with you before, and I want to come back! Should I apply again this year?
First, to those of you who want to come back, thank you! I think it is such a testament to this magical week that writers would like to return! (In fact, this past March we had an entire week devoted to a YA alumni reunion retreat and welcomed nine Djerassi YA writers back, and it was extraordinary.)
So that's why I will tell my other Djerassi YA alums: Wait! I am hoping to hold another Djerassi YA Alumni Reunion Retreat hopefully in 2018, possibly in the winter/early spring, and I will keep you posted. The next alumni reunion will have ten or eleven spaces and will be open to anyone who has taken this workshop before. There will be no need to apply—registration will open on a first come, first serve basis until we fill all the spaces.
This June 2017 YA workshop is going to be devoted to all new writers, to give others a chance to spend this week up at Djerassi. If you have questions, email me.
---
Here's a question I'm not asked: What do I want from this week?
I want to give you a safe place to talk about your novel, among like-minded writers. A place to be honest on the page. A place to dig in and ask questions and be open to feedback that could help raise your story to new heights. I want to dig in to your novel with you and help you get to where you'd like to be.
I also love being up at Djerassi, so I can't wait to go back, just selfishly.
If the last five Djerassi YA workshops I've led were any indication, this is going to be an incredible week. I hope you'll consider applying! Remember, the deadline for the 2017 workshop is April 5, 2017.
---
For testimonials from writers who have taken this workshop before, visit the Djerassi Program page.
Applications ARE NOW OPEN!
Details are here! Direct link to application is here!