Coming Oct. 2020, in paperback & ebook from Algonquin 
Thirteen Short Stories from Bold New YA Voices & Writing Advice from YA Icons • FORESHADOW: Stories to Celebrate the Magic of Reading and Writing YA is the print edition of foreshadowya.com!
Preorder:
Bookshop | IndieBound | Barnes & Noble | Books-a-Million | Amazon
---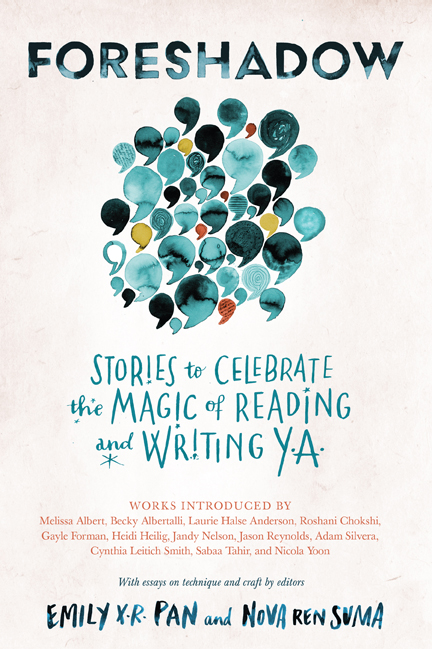 With essays on technique and craft by editors Emily X.R. Pan & Nova Ren Suma
Featuring short stories written by new voices Tanya Aydelott, Tanvi Berwah, Gina Chen, Linda Cheng, Mayra Cuevas, Nora Elghazzawi, Desiree S. Evans, Rachel Hylton, Adriana Marachlian, Sophie Meridien, Maya Prasad, Flor Salcedo, and Joanna Truman
Stories selected by Melissa Albert, Becky Albertalli, Laurie Halse Anderson, Roshani Chokshi, Gayle Forman, Heidi Heilig, Jandy Nelson, Jason Reynolds, Adam Silvera, Cynthia Leitich Smith, Sabaa Tahir, and Nicola Yoon
About the book:
Created by New York Times bestselling authors Emily X. R. Pan and Nova Ren Suma, Foreshadow is so much more than a short story collection. A trove of unforgettable fiction makes up the beating heart of this book, and the accompanying essays offer an ode to young adult literature, as well as practical advice to writers.
Featured in print for the first time, the thirteen stories anthologized here were originally released via the buzzed-about online platform Foreshadow. Ranging from contemporary romance to mind-bending fantasy, the Foreshadow stories showcase underrepresented voices and highlight the beauty and power of YA fiction. Each piece is selected and introduced by a YA luminary, among them Gayle Forman, Laurie Halse Anderson, Jason Reynolds, and Sabaa Tahir.
What makes these memorable stories tick? What sparked them? How do authors build a world or refine a voice or weave in that deliciously creepy atmosphere to bring their writing to the next level? Addressing these questions and many more are essays and discussions on craft and process by Nova Ren Suma and Emily X. R. Pan.
This unique compilation reveals and celebrates the magic of reading and writing for young adults.
Forthcoming from Algonquin Young Readers October 20, 2020.
Preorder:
Bookshop | IndieBound | Barnes & Noble | Books-a-Million | Amazon
---
About the editors: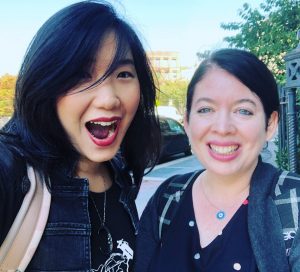 Emily X.R. Pan is the New York Times bestselling author of The Astonishing Color of After, which won the APALA Honor Award and the Walter Honor Award, received six starred reviews, was an L.A. Times Book Prize finalist, and was long-listed for the Carnegie Medal. She holds an MFA in fiction from New York University and has taught creative writing in many different capacities, including to undergraduate students at NYU. Visit Emily online at exrpan.com.
Nova Ren Suma is a two-time Edgar Award finalist for Best Young Adult Novel, for A Room Away from the Wolves and the #1 New York Times bestselling The Walls Around Us. Her other novels include Imaginary Girls and 17 & Gone. She has an MFA in fiction from Columbia University and teaches creative writing at the University of Pennsylvania and in the Writing for Children and Young Adults MFA program at Vermont College of Fine Arts.
---
Final cover to come.