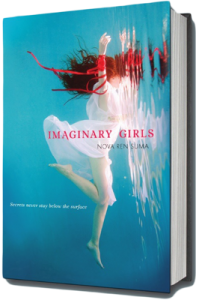 As of yesterday, June 14, my debut YA novel Imaginary Girls is now officially on sale in the US and Canada! To celebrate pub day, you can find me on Penguin.com, talking about writing magical realism for the first time. And you'll also find a special guest on my blog—an interview with my own little sister about the book, which just so happens to be a book about sisters. Plus, check out the book's official website, where you can watch the gorgeous book trailer!
You can find Imaginary Girls wherever books are sold, in stores and online.
If you're reading this post from Australia or New Zealand, just hang on two more weeks. Your edition of Imaginary Girls is coming out from Pier 9 on July 1!
Hey, if you do find it out in the wild and want to send its excited author a photo, you can email her (i.e., me) at nova [at] novaren.com or tweet @novaren or post on this Facebook page.
You can find the full collection of Imaginary Girls out-in-the-wild photos on this Flickr page!
But here are some states where Imaginary Girls has been spotted so far: