This was the launch week of Imaginary Girls, a week I've been excitedly and anxiously awaiting ever since the book sold, and I still can barely believe it's here. It's a momentous occasion in itself, not to mention that this week I got over one of my fears: I went to a bookstore, told them I was an author and, look, there's my book, and I signed stock! I find this extremely intimidating and I've never been able to do it before… until now.
On pub day, June 14, I went out looking for my book. I decided to try the Union Square Barnes & Noble in New York City. Here I am nervously standing outside before I went in to see if my book was there: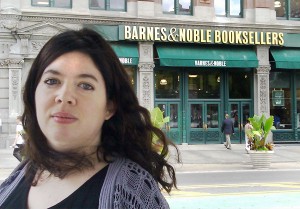 Once there, there was a small hiccup, in that the book wasn't yet shelved, but there was a good-sized stack on a cart right near the shelves, and I did sign them. Here is evidence: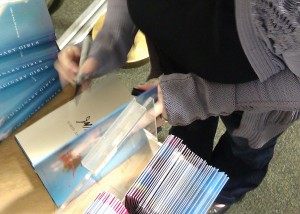 I heard they were shelved soon after with autographed stickers—because I discovered online a day later that someone bought one!
Pub day was exciting enough, but you know what happened the next day? I found out that Imaginary Girls got its fourth starred review! What, four stars? I know! Thank you so much, School Library Journal! I'm dizzy!
Then, last night, I did my first-ever book signing for Imaginary Girls at the fantastic indie children's bookstore Books of Wonder. I walked in by myself and the first thing I saw was this display: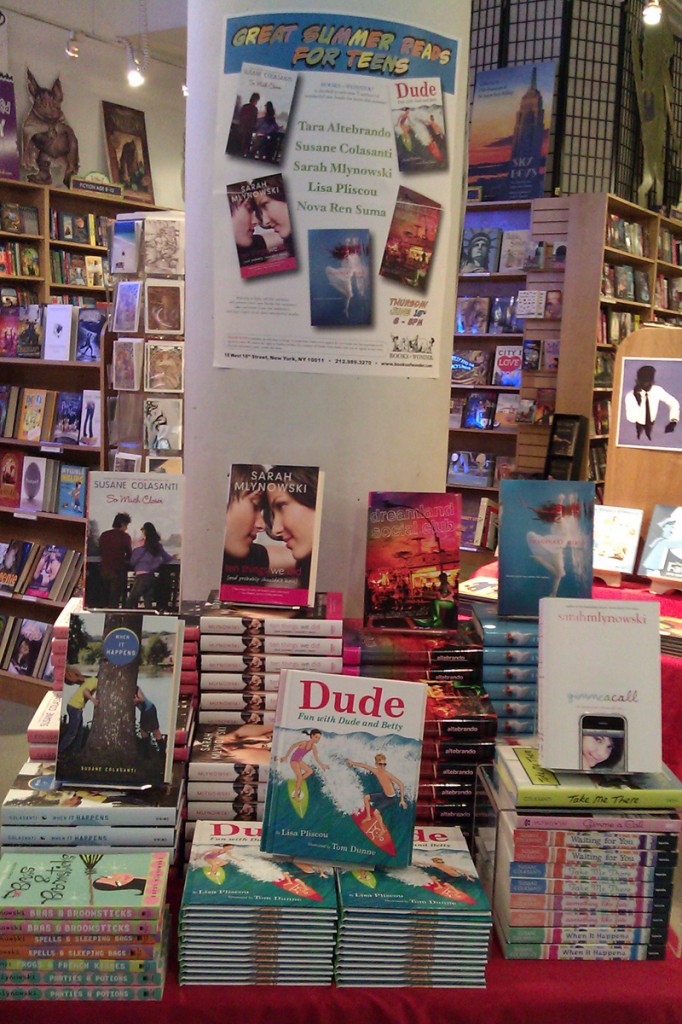 I was excited to be on a panel with Tara Altebrando, Susane Colasanti, Sarah Mlynowski, and Lisa Piscou, to get the chance to read an excerpt from my book (I love doing readings), and then to sign copies. Here's me reading from Imaginary Girls: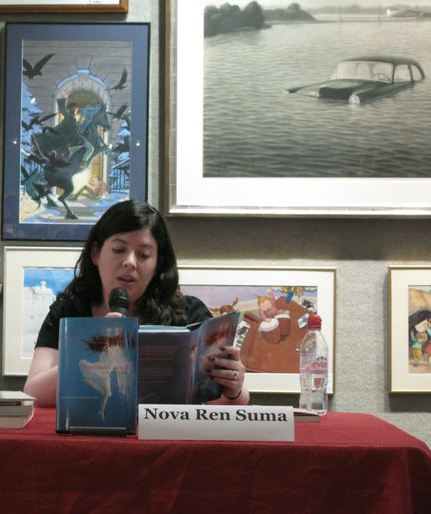 I am very into it: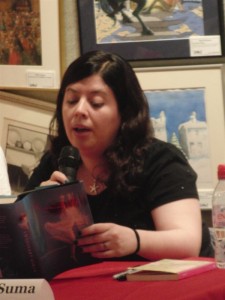 And then here I am signing books! Look how happy I am: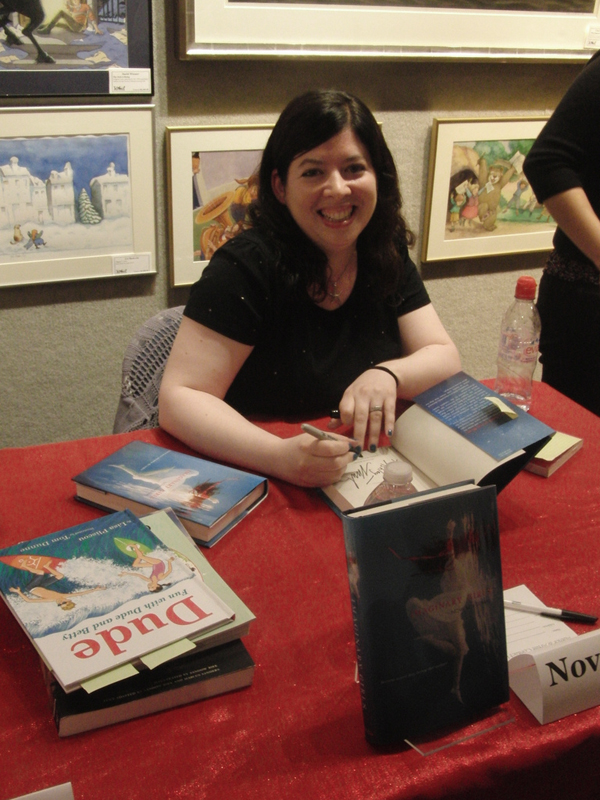 I was so touched by all the people who came—thank you so much, it meant the world to me!—and my wonderful and amazing mom even came down from upstate and she wore an Imaginary Girls–themed outfit. How adorable is she! (Note the red ribbon and the Ruby boots.)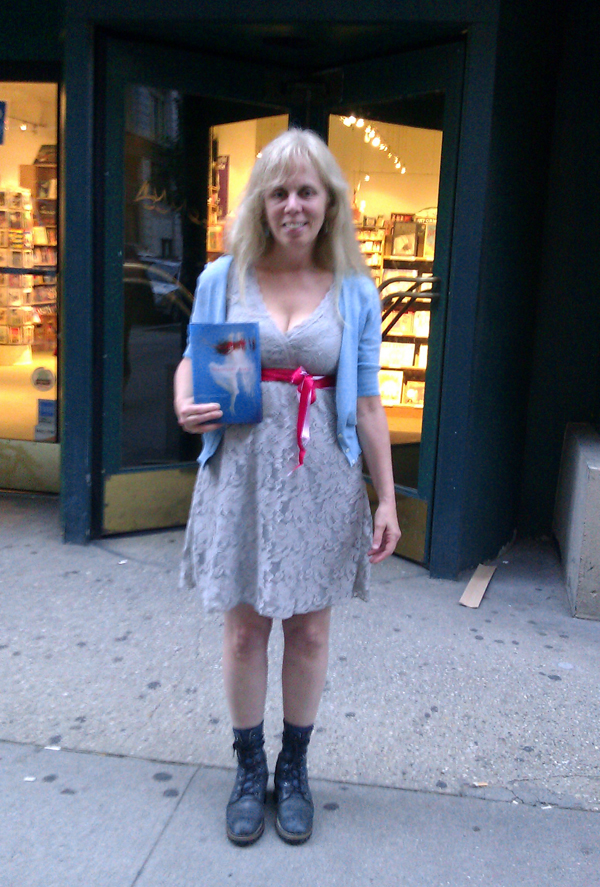 I love you, Mom. Know what else she did? Sent a bouquet of Imaginary Girls–colored balloons on my pub day. If you read the book, you'll know how perfect that is.
Oh, and guess what? The Books of Wonder signing went so well that we even sold out of copies of Imaginary Girls! I'm stunned that so many people bought the book. THANK YOU.
Launch week has been utterly wonderful. Know what else happened? I was featured in a Hudson Valley newspaper, the Kingston Daily Freeman! In the actual paper in the Life section! Here's an online version of the article. (And if you're reading this post from the Hudson Valley, I hope you'll come to my reading and signing at the Kingston Barnes & Noble on Monday, July 11. That didn't make the paper, but it's happening and I'll be there! More upcoming Hudson Valley events here.)
I'll tell you one more amazing thing about this week. One of my incredibly supportive and generous writer friends found me at my writing café on the morning of pub day and surprised me with this: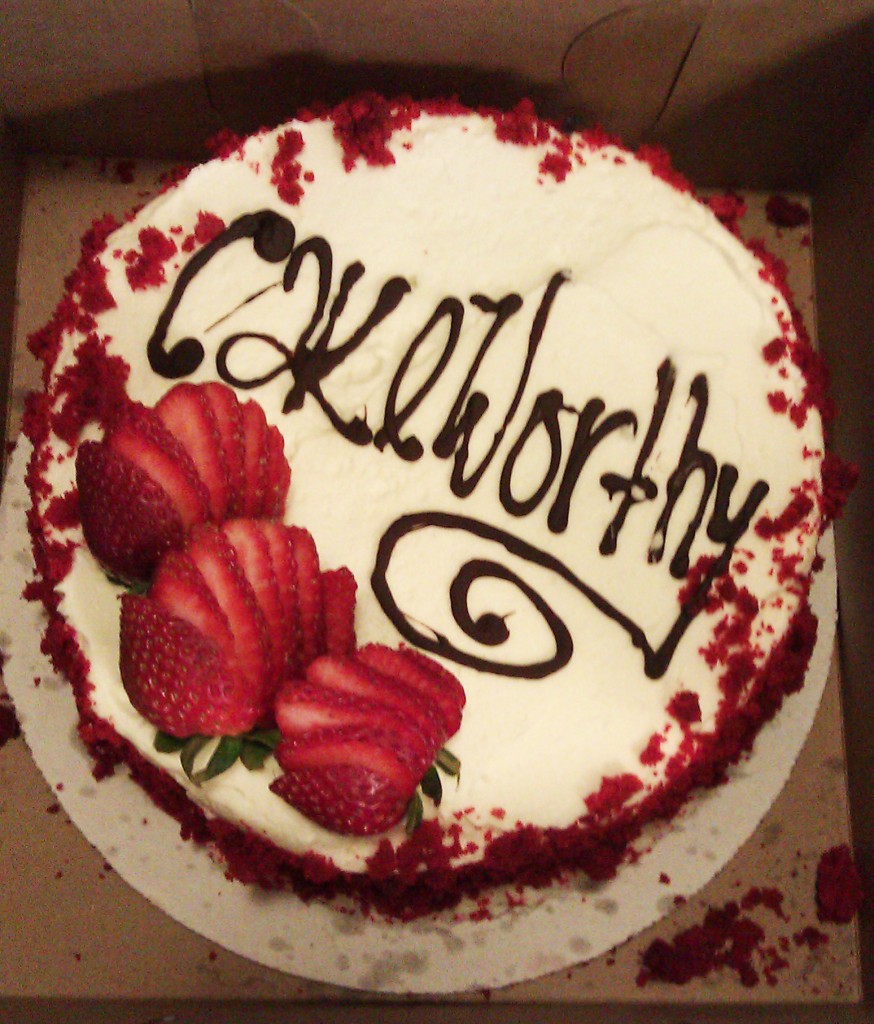 CAKE.
Happy Book Birthday, Imaginary Girls!