Yesterday we unveiled the redesign of novaren.com—and I'm so excited by all the new features.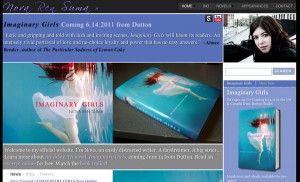 The front page showcases photos, book blurbs, and review quotes (and clearly from this you can see how much I'm looking forward to the arrival of Imaginary Girls next month!)—so keep an eye on this page, as things will be changing often. You'll see a button where you can read the Imaginary Girls book teaser on Scribd… and check back in that spot, because one day soon you'll see the link to the Imaginary Girls book trailer!
If you scroll down on the home page, you'll see that you can cycle through current news, the latest posts from my blog Distraction no. 99, and if you really want, you can keep track of how well I'm distracting myself on Twitter. (Answer: quite well.)
In the sidebar on the right you'll find ordering links for both Imaginary Girls and Dani Noir, as well as upcoming appearances in New York City and the Hudson Valley. On the Novels page you'll find more info about both books. And if you need to reach me or my agent, visit the Contact page.
Coming soon will be a mobile version of the site. Plus a FAQ page.
The site was designed by 36invisible. I'm thrilled by the new look and hope you like it too!