I'll be teaching a new YA novel writing workshop in New York City this fall, with Ideasmyth at the Writers Room in Manhattan.
The details about the course are below. If you have any questions about this workshop that you want to ask me first before applying, you are welcome to email me. Admissions are rolling and spaces are limited, so apply sooner rather than later!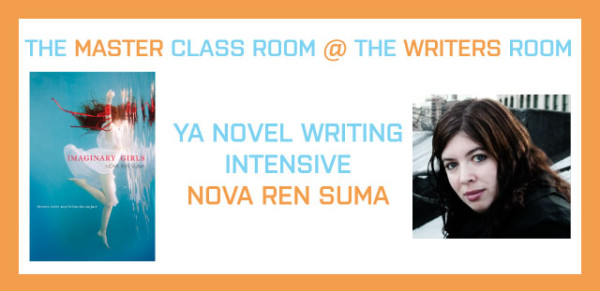 When: 6 Wednesdays, 6:30-9pm, September 24th, 2014-October 29th, 2014. Private conferences will be held in November.
EARLY BIRD PRICING: $600 by September 1st, 2014;  $650 after September 1st
Location: The Writers Room, 740 Broadway, 12th Floor, New York, NY 10003
This is an intensive workshop for writers working on YA novels of any style or genre. During weekly critique sessions, we will focus on constructive feedback with the goal of helping the writer execute his or her intended vision. Participants will critique one another's work in group discussions, and each writer will have a private conference, with feedback from the instructor on additional pages from their novels. Writers are expected to have a basic knowledge and appreciation of current YA novels, and are welcome to come to this class at any stage in the writing of their own novel: just beginning a first draft, with a novel-in-progress, or with a completed draft in need of focused revision.
This workshop is designed for experienced writers. Previous publication is not necessary, but writers should be serious about working on a YA novel, open to critiques and advice, and ready to help their peers succeed.
This class will cover:
Writing a striking, memorable opening
Issues of craft—such as plot, character, and creating a strong YA voice
Structuring your story and outlining methods
Setting goals for completing a solid draft
Tools for tackling revision
Class design:
Weekly workshop critique sessions
Writing prompts to jumpstart new work
Detailed written feedback from the instructor
A private conference with the instructor, in which additional pages not submitted for workshop will be discussed
Private conferences will take place in November after the last class date and can be arranged for in-person or over the phone
Application process:
Applicants must apply first before registering. Admissions are rolling. For more information email: Courses@Ideasmyth.com.
APPLY NOW:
(Admissions are rolling and spaces are limited! Apply sooner rather than later.)
---
Student Testimonials
 Nova Ren Suma is a generous and honest teacher that graciously encourages every writer she works with to become the best version of him or herself. Her keen eye, industry knowledge, and overall love for the YA genre combine to make her a valuable resource for both aspiring and experienced writers.
—Jessica Fonseca Honiotes
Nova's genuine interest in my work and her concern for meeting my personal needs within her feedback made working with her feel like chatting with a compassionate friend. Hers is a method that conveys knowledge of craft as well as tools for personal growth as an individual writer.
—Shelli Cornelison
Nova is an excellent reader and facilitator. She is thoughtful, smart, flexible, and kind. And yes, she will tell you when and if something is not working. She meets you on the page—and can go where your story is going—not everyone can do that.
—Asale Angel-Ajani
Nova is a wonderful mentor who is fully invested in the growth and success of the writers in her workshops. I have developed a stronger confidence in my writing thanks to her guidance and support.
—Alisia Leavitt 
If you have any questions about this workshop that you want to ask me first before applying, you are welcome to email me.