Our online project FORESHADOW: A Serial YA Anthology is coming to print! In October, Algonquin YR will publish Foreshadow: Stories to Celebrate the Magic of Reading and Writing YA, featuring 13 stories by new voices paired with craft talks by me & Emily X.R. Pan.
Here is the announcement from Publishers Weekly: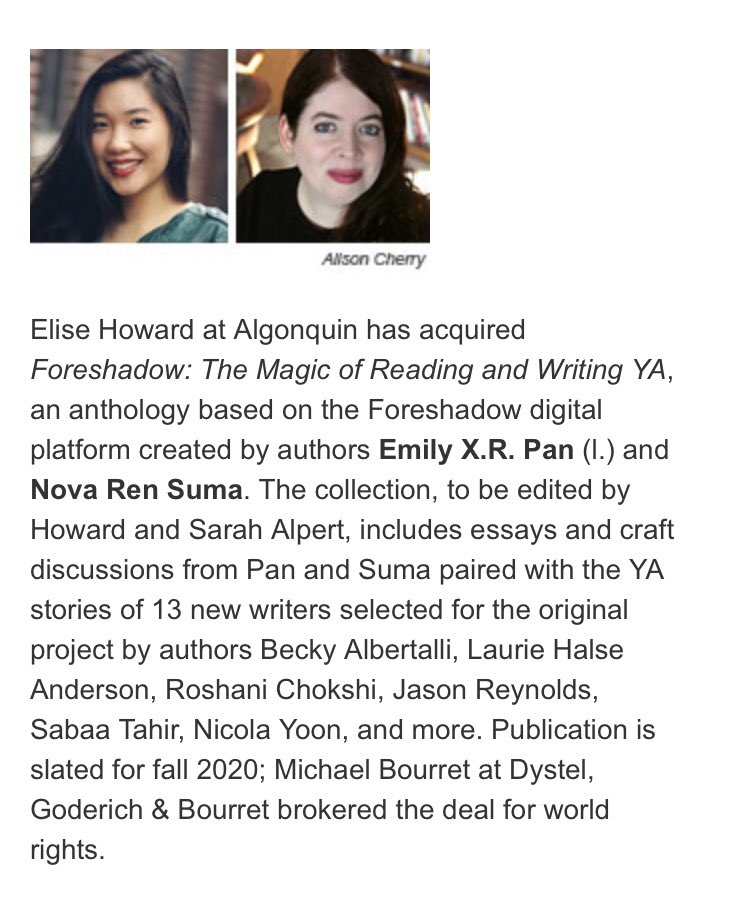 And here are details about the book!
Thirteen Short Stories from Bold New YA Voices & Writing Advice from YA Icons

Created by New York Times bestselling authors Emily X. R. Pan and Nova Ren Suma, Foreshadow is so much more than a short story collection. A trove of unforgettable fiction makes up the beating heart of this book, and the accompanying essays offer an ode to young adult literature, as well as practical advice to writers.

Featured in print for the first time, the thirteen stories anthologized here were originally released via the buzzed-about online platform Foreshadow. Ranging from contemporary romance to mind-bending fantasy, the Foreshadow stories showcase underrepresented voices and highlight the beauty and power of YA fiction. Each piece is selected and introduced by a YA luminary, among them Gayle Forman, Laurie Halse Anderson, Jason Reynolds, and Sabaa Tahir.

What makes these memorable stories tick? What sparked them? How do authors build a world or refine a voice or weave in that deliciously creepy atmosphere to bring their writing to the next level? Addressing these questions and many more are essays and discussions on craft and process by Nova Ren Suma and Emily X. R. Pan.

This unique compilation reveals and celebrates the magic of reading and writing for young adults.