My new book is out September 4, and I'll be traveling around this fall to help promote it! I'll be launching the book in NYC and Philly, and then doing events in Boston, Rhinebeck, Woodstock, Providence, Austin, Dallas, and more!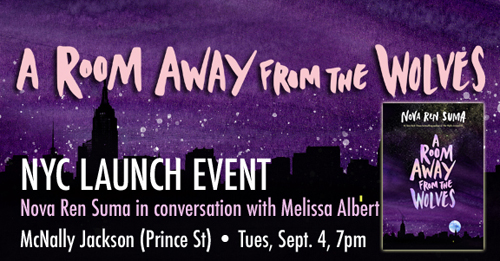 I'm kicking off the A Room Away from the Wolves pub week with three special events! I'll be launching the book in New York City, at McNally Jackson on pub day, Tuesday, September 4 at 7pm. I'll be in conversation with Melissa Albert, author of The Hazel Wood, and all are invited!
I'm also holding a launch in my new home city of Philadelphia, and the Philly book launch will be at Head House Books on Thursday, September 6 at 7pm. Come join me at my first-ever reading in my new city—all are welcome!
And on Friday, September 7 at 7pm, I'll be doing a joint event at the Oxford Valley Barnes & Noble in Fairless Hills, PA, with two superstars: Courtney Summers (Sadie) and Tiffany Schmidt (Bookish Boyfriends).
Here are all the places you can find me this fall: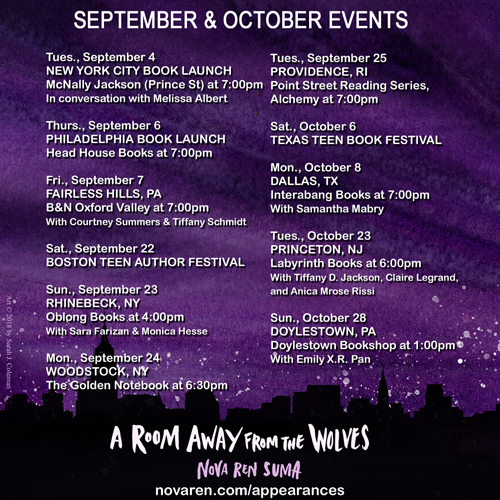 September
Tues., September 4: NEW YORK CITY BOOK LAUNCH—McNally Jackson (Prince Street) at 7:00pm • in conversation with Melissa Albert
Thurs., September 6: PHILLY BOOK LAUNCH—Head House Books at 7:00pm
Fri., September 7: FAIRLESS HILLS, PA—Barnes & Noble Oxford Valley at 7:00pm • with Courtney Summers & Tiffany Schmidt
Sat., September 22: BOSTON, MA—Boston Teen Author Festival
Sun., September 23: RHINEBECK, NY—Oblong Books at 4:00pm • with Sara Farizan & Monica Hesse
Mon., September 24: WOODSTOCK, NY—The Golden Notebook at 6:30pm
Tues., September 25: PROVIDENCE, RI—Point Street Reading Series at 7pm
October
Sat., October 6: AUSTIN, TX—Texas Teen Book Festival
Mon., October 8: DALLAS, TX—Interabang Books at 7:00pm • with Samantha Mabry
Tues., October 23: PRINCETON, NJ—Labyrinth Books at 6:00pm • with Tiffany D. Jackson, Claire Legrand, and Anica Mrose Rissi
Sun., October 28: DOYLESTOWN, PA—Doylestown Bookshop at 1:00pm • with Emily X.R. Pan
BOSTON, MA—Details coming soon
Details about all the events—and more to be announced!—can always be found on my Appearances page. I hope to see you at one of these events or festivals this fall!